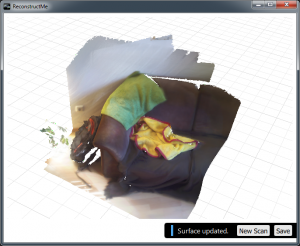 Hello everyone,
one week after the launch of ReconstructMe 2.0, we are happy to announce that we've just made ReconstructMe SDK 2.0 publicly available. ReconstructMe SDK is the reconstruction engine used by ReconstructMe to perform 3D scanning in real-time.
The SDK update brings tons of new features and many new examples. Make sure you don't miss the following sections!
3D Color Capture
The new ReconstructMe SDK enables you capture geometric and color information in real-time. The colorize example shows how you can capture a colorized 3D model with just a few lines of code. A resampling algorithm automatically optimizes the surface while maintaining its appearance as the following video shows
Multiple sensor handling
With our latest release we made using multiple sensors as easy as never before. Have a look at our body-scanning example that uses 2 sensors that work together and is written in less than 100 lines of code including calibration. Here's a sneak peak at the result
Point and Shoot
Using ReconstructMe's ability to perform global alignment, its easy to write an application that uses only key-frames for reconstruction. This is especially interesting for lower-powered devices such as note-books and tablets where real-time scanning is computationally too expensive. Our point and shoot example shows how trivial it is to implement
More Features and Bug-Fixes
Besides the features mentioned above here's a short list on new things you'll find in ReconstructMe SDK 2.0
Sensor Positioning We've added some intelligent sensor positioning techniques which can automatically detect the floor and construct an aligned volume around it. This technique was also for the experimental hidden feature in ReconstructMe 2.0
Setup Tuner The setup tuner will automatically adjust reconstruction parameters to the chosen volume size.
Performance Improvements The performance of alignment routines greatly improved by a module that allows a position forecast based on the tracked camera path.
Alignment Stability We've added an option to allow tracking even if the sensor is not looking at the volume at all. This feature is best used for static scenes.
Bugfixes We've fixed many sensor related issues. Intel HD series and AMD 79xx series are now supported.
The ReconstructMe SDK can be downloaded from our developer page.