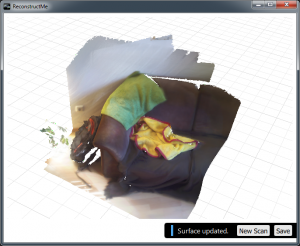 Hello everyone,
the waiting is over. We have now officially released ReconstructMe 2.0 for Windows. ReconstructMe now features a brand new slick UI design and brings support for colorizing your scans. The new UI allows you to create your setup more easily. Background helpers automatically choose the best settings for your scanning task. A simplification module optimizes your surface for less memory consumption while maintaining its appearance.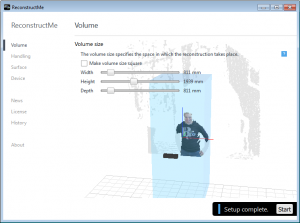 From our dear beta users we know that ReconstructMe 2.0 offers better performance, works across a wide range of GPUs/CPUs and generates higher quality scans.
This is only the beginning of a huge adventure for all of us. Many features are about to come to ReconstructMe 2.0 such as texturing from photos, cleaning and completing meshes as well as mobile support. One experimental feature is already included in the current release, albeit a bit hidden, and waits for you to discover it. We are giving away one free PRO license for the first explorer who unveils it. Hint: we are using the feature in our demo video below.
The following video quickly introduces ReconstructMe 2.0 and shows how easy it is to generate colorized 3d scans.
You can download ReconstructMe 2.0 from our Get Started Now! page.
Capture your moment in 3D with ReconstructMe.
Best regards,
The ReconstructMe Team