by William Galliher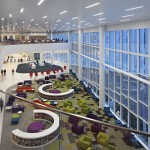 Hello everyone, we are the 3D Scanner team from North Carolina State University! For our senior design project, we are constructing a full body 3D scanner station for the Hunt public library here on campus. Hunt Library has a technology showcase and a Makerspace with 3D printers, and they are dedicated to showing what this technology can do. Unfortunately, many people who come in to the library do not know what this technology is capable of, and many printers take quite a while to print.
To solve this problem, and show off what can be done with the technology in this field, our team has decided to construct a 3D scanner that will scan a patron in less than two minutes. The booth will show the scan that is taking place and export the scan as a .STL which can be printed in the Makerspace within the library.
As part of the planning stage for this project, we spent time evaluating alternatives in hardware and software. In doing so, we came across the video for ReconstructMe 2.0 which showed two sensors doing a fast, real time scan of someone in a chair spinning around. At that point in time, our design encompassed moving a sensor up and down to get multiple levels on a scan. Multiple sensors along with the fast record time would allow us to move our original goal of a scan within five minutes down to below two, and so we decided to go with ReconstructMe.
The video that made the decision on ReconstructMe We are in the midst of constructing our station now, and recently got multiple sensor support and export of files completed. We have rapidly approaching alpha and beta demos, in addition to a final design day in late April. We will be back soon after that to show our final product. Thanks for reading, and see you again soon!