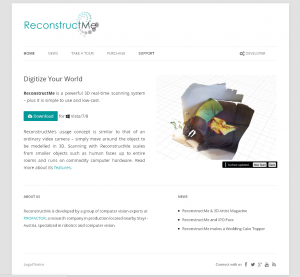 As you may have noticed we've reworked our homepage. We've re-organized most of its content in a hopefully clean and easy to read form.
Help center
A new help-center, which you can find by clicking Support in the main menu, allows you to browse and search our knowledge database. We intend to extend our knowledge base massively over the coming weeks.
Forums
Besides, we decided to move away from our Google-groups channels and instead integrate forums directly into to our homepage. This allows anyone (even without registration) to converse with other users and the ReconstructMe team.
Product variants
We stripped down our product variants to basically two: a single seat license for users and one for developers. All other inquiries, such as volume and educational licenses, are handled in direct interaction with our sales team.
Technical News
Besides reworking our homepage, we've been busy with improving ReconstructMe in specific areas. In the coming weeks we intend to blog about our latest changes, including (but not limited to) new sensors, large scale reconstruction and drones using ReconstructMe for stabilization and reconstruction.