The company Occipital has recently released their Structure sensor. We ordered one early this year and received it yesterday. Now we'd like to show you how you can use it together with ReconstructMe.
The Structure sensor is based on a PrimeSense Carmine / Capri 1.08 depth sensor and comes without an additional RGB camera module. Since it is PrimeSense based technology, a Structure sensor can simply be accessed via OpenNI, a framework developed by PrimeSense.
Setup
In order to use the sensor on Windows using ReconstructMe you should order one including the Hacker cable, which allows you to connect the sensor to a standard USB slot on your Windows machine. The sensor packages comes with an USB hacker cable, an iPad connector cable and a power supply to charge the built-in battery. For ReconstructMe, only the following parts are needed to get it run.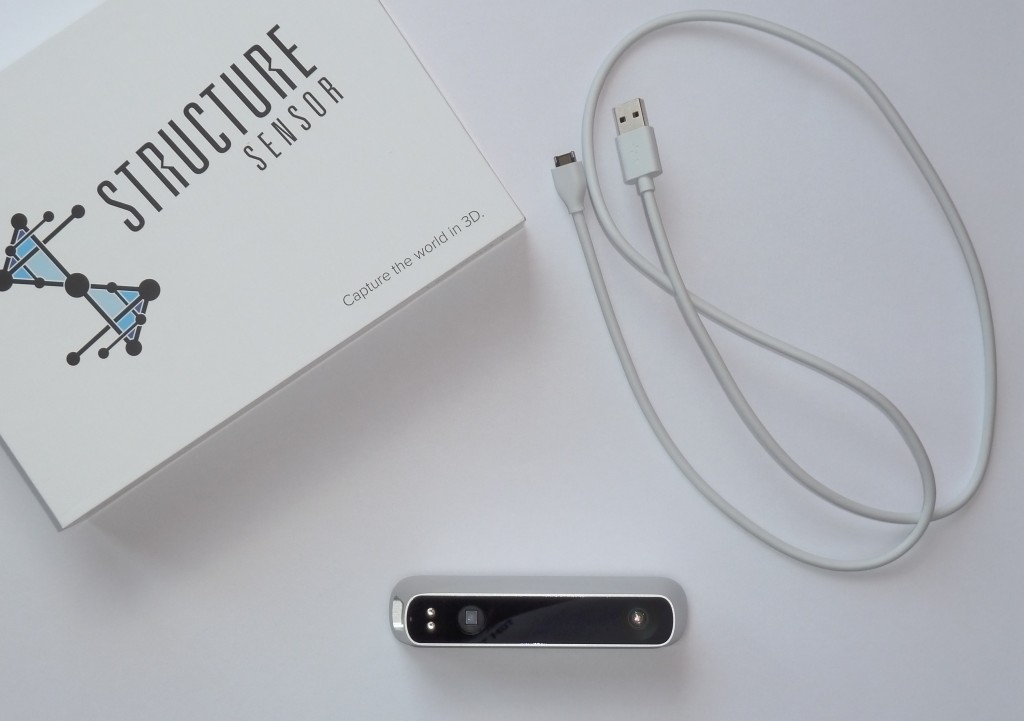 Note that we didn't need to charge its internal battery which we assume is only needed for iPad uses where additional power is needed to keep the sensor running.
To get the sensor recognized in Windows you need to install OpenNI. Connect the sensor via the USB Hacker cable to the USB slot on your PC. Your sensor should be recognized in the device manager as PrimeSense.
Next, start ReconstructMe. Once started, ReconstructMe will detect your sensor and you are (almost)ready to go. As with every sensor it makes sensor to calibrate it in order to get the best reconstruction results. Luckily we've already done this for you and provide a specific Structure sensor configuration file. To apply the configuration, navigate to Device / Sensor Selection. Uncheck Automatically detect sensor and browse to the sensor configuration file.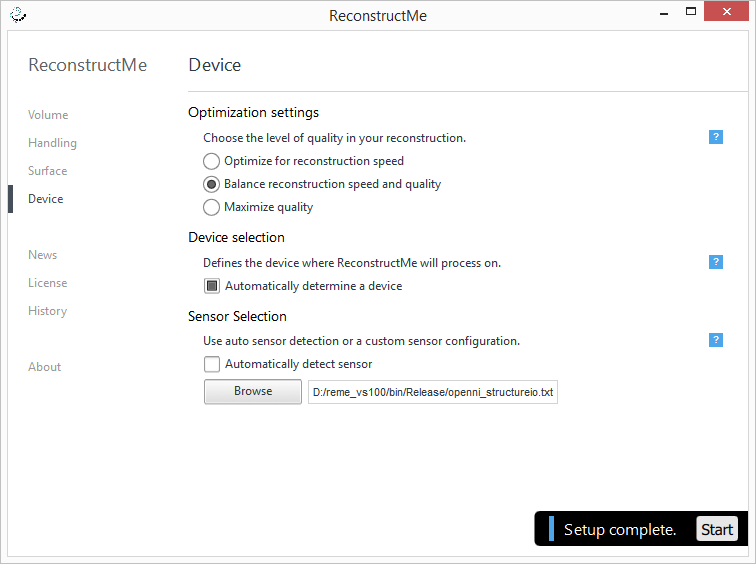 ReconstructMe will re-open your sensor and now you are all set for scanning.
Results
In our tests the Structure turned out to be a decent depth sensor on par with a Carmine 1.08. Below is a video showing a quick self scan.
Enjoy scanning.