On Batch Scanning People
By Martin Lang, IPO.Plan GmbH
Normally our company focuses on unique planning tools, interactive process visualisations and specialised services for factory and production planning. We are also using commodity depth sensors mounted on robots that help us gather valuable 3D data from the factory floor. Utilising the invaluable ReconstructMeSDK we are able to directly transfer parts of real production environments into our planning software.
Once in a while somebody needs some distraction. So we thought: Hey, let's scan people for a change!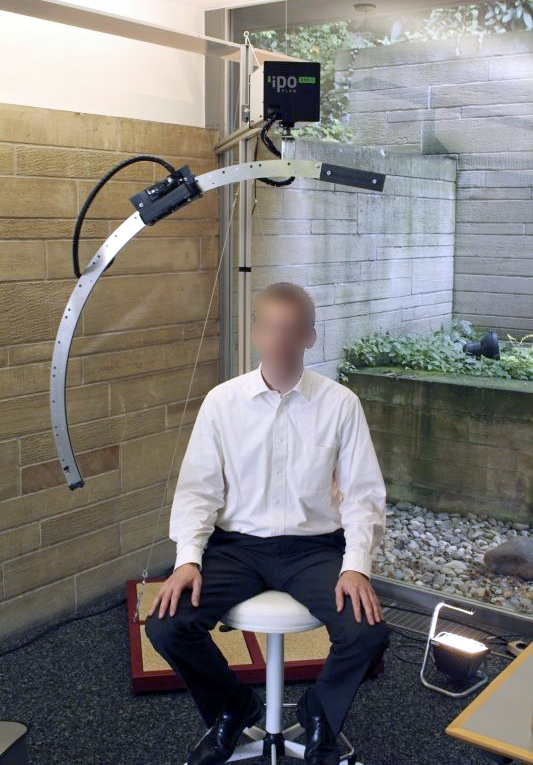 IPO.Face
Building on our know-how with robotics and the ReconstructMeSDK, we planned, constructed, and implemented an upper body people scanner in less than 40 days.
The basic concept is to quickly move a Primesense 1.09 sensor in a predefined pattern around a person's head while the reconstruction algorithm handles tracking, reconstruction and surface generation. A post-processing step applies some plane cuts and adds a premodelled base to the mesh, yielding a 3D printable bust.
The mechanical structure of IPO.Face is built from standard of-the-shelf items, with special parts being laser-cut from aluminium or 3D printed (ABS). Servo motors rotate a circle shaped guiding and move an attached sledge with the mounted Primesense along that guiding. Motion control and the ReconstructMeSDK are handled by a single software. Thus with the help of accurate positional sensors we are able to recover the reconstruction pose in real time if sensor tracking is lost.
After trials we settled for a 20 sec movement pattern which gave us good results for most face features including chin and complex haircuts. During an in-house exhibition we scanned 70+ persons. They all received their 3D digital models and, as an option bound to a charitable donation, were later provided with a 3D printed bust as well.