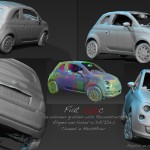 We have just released ReconstructMe 0.4.0-255 that contains Microsoft Kinect for Windows and Near Mode support. Here are the details
Support for Microsoft Kinect for Windows added.
Fixed and extended batch starters.
First version to build against Microsoft Visual Studio 10.
The installation procedure and usage have been updated. Especially you will need to update the C++ redistributables.
ReconstructMe now supports at least 4 different sensors.