Dear All,
the ReconstructMe team wishes everyone a Merry Christmas and a happy new Year! Together, we've reached a lot in this year, pushing forward the state of the art in 3D reconstruction. Although not everything we intended to do made it in time, we hope we can catch on that in the new year. Here's an outlook for 2013 and summary of the past couple of weeks:
Area based Stereo Vision
We've teamed up with an Austrian based company that provides real-time dense area based stereo vision systems for arbitrary dimensions. Those systems can be operated in active and passive mode and scaled according to the scanning requirements. The image below shows one of the first scans of a peanut.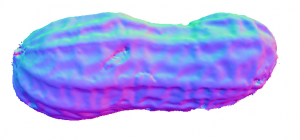 This is the first evidence ever made that ReconstructMe can scale for arbitrary dimensions. The sensor input dimension is micro meters (0.001 mm).
LEAP
We received note that we have been accepted by the LEAP developer program. From a first glimpse of the SDK it seems like the API does not yet provide the necessary data to perform real-time reconstruction, but we hope that the missing features will be added within the 1st quarter of 2013, so we can start working on integration.
We will be back on January 2nd 2013.
All the best,
Christoph